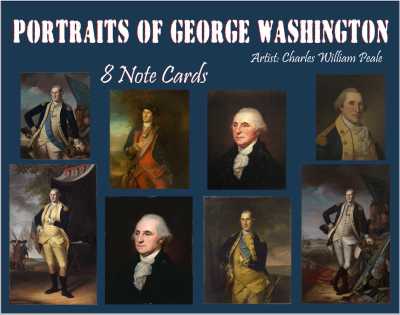 Boxed Note Cards
$ 4.50   A2 Small (4.25 x 5.5)
$ 5.50   A7 Large (5 x 7)
8 cards & envelopes,

heavy cardstock, clear box

​
Note Cards, singles
$ 1.00   A2 Small (4.25 x 5.5)
$ 1.50   A7 Large (5 x 7)
In clearbag with envelope

Prints

$ 3.00   11x14
Heavy cardstock,

matboard back, clearbag

Magnets, metal based
$ 1.50   100+
$ 1.98   1-99

Postcards
$ .25    4 x 6 
Belfield Farm

Cabbage Patch, The Gardens of Belfield, Pennsylvania

Charles Waterton

Exhumation of the Mastadon

George Washington (red)

George Washington (yellow)

James Peale Painting a Miniature

Landscape Looking Towards Sellers

Mary O'Donnell

Mr. and Mrs. Alexander Robinson

Robert Goldsborough and Family

Self Portrait

The Peale Family

The artist's mother, Mrs. Charles Peale and her grandchildren

Thomas and Henry Sergeant

View of the Garden at Belfield

William Smith and His Grandson
Not seeing the image you're looking for? Contact us! 
These are a few of the many images from our stock collection.