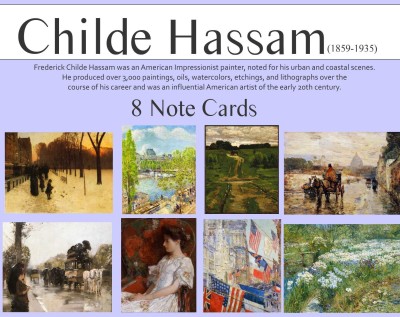 Boxed Note Cards
$ 4.50   A2 Small (4.25 x 5.5)
$ 5.50   A7 Large (5 x 7)
8 cards & envelopes,

heavy cardstock, clear box

​
Note Cards, singles
$ 1.00   A2 Small (4.25 x 5.5)
$ 1.50   A7 Large (5 x 7)
In clearbag with envelope

Prints

$ 3.00   11x14
Heavy cardstock,

matboard back, clearbag

Magnets, metal based
$ 1.50   100+
$ 1.98   1-99

Postcards
$ .25    4 x 6 
Summer Evening

A Back Road

Celia Thaxter's Garden

Le Val-de-Grâce, Spring Morning

Improvisation

Rainy Day, Boston

The Victorian Chair

Snowstorm Madison Square

Allies Day

Afternoon in Nantucke

Afternoon Sky, Harney Desert

Apple Trees in Bloom, Old Lyme

April, Quai Voltaire, Paris

April Showers, Champs Elysees Paris

Butler Lili in garden

The artists wife in a garden

The Church at Gloucester

The Cafe Terrace

At the Grand Prix in Paris
Not seeing the image you're looking for? Contact us! 
These are a few of the many images from our stock collection.