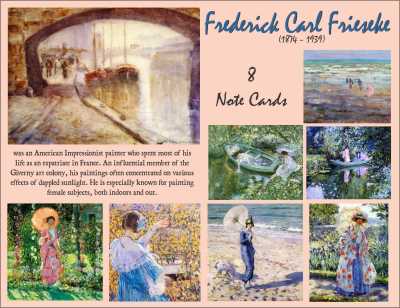 Boxed Note Cards
$ 4.50   A2 Small (4.25 x 5.5)
$ 5.50   A7 Large (5 x 7)
8 cards & envelopes,

heavy cardstock, clear box

​
Note Cards, singles
$ 1.00   A2 Small (4.25 x 5.5)
$ 1.50   A7 Large (5 x 7)
In clearbag with envelope

Prints

$ 3.00   11x14
Heavy cardstock,

matboard back, clearbag

Magnets, metal based
$ 1.50   100+
$ 1.98   1-99

Postcards
$ .25    4 x 6 
Beach in Corsoca

Brittany Landscape

Central Park, New York

Dutch Landscape

Farmhouse in Etaples

Girl Reading

Hollyhocks

Horse in Field

Le Pouldu Landscape

Misty Morning on the Seine

Montparnasse Landscape (Hilltop Street)

Nasturtiums

On the Beach

On the River

Promenade in the Garden

Reflections (Marcelle)

Repose at Noonday

The Birdcage

The Blue Bowl

The Garden Umbrella

Two Ladies in a Boat

White Lilies

Woman before a Mirror

Woman with a Book
Not seeing the image you're looking for? Contact us! 
These are a few of the many images from our stock collection.