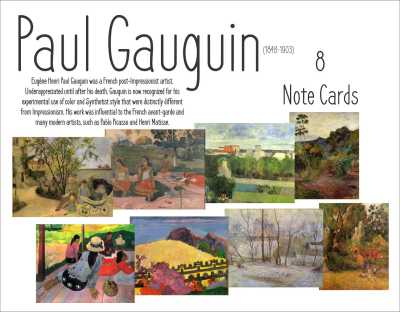 Boxed Note Cards
$ 4.50   A2 Small (4.25 x 5.5)
$ 5.50   A7 Large (5 x 7)
8 cards & envelopes,

heavy cardstock, clear box

​
Note Cards, singles
$ 1.00   A2 Small (4.25 x 5.5)
$ 1.50   A7 Large (5 x 7)
In clearbag with envelope

Prints

$ 3.00   11x14
Heavy cardstock,

matboard back, clearbag

Magnets, metal based
$ 1.50   100+
$ 1.98   1-99

Postcards
$ .25    4 x 6 
Apple-Trees in Blossom

At the black rocks

Bordeaux Harbour

Coastal landscape

Cove opposite Pont-Aven Harbor

Cows on the Seashore

Daisies and peonies in blue vase

Fruits

Landscape at Pont-Aven

Landscape with Poplars

Lollichon Field

Palm trees on Martinique

Redheaded woman and sunflowers

Rocks and sea

Still Life with Cherries

Swineherd, Brittany

The first flowers

The Kelp Gatherers

The milkmaid

The Port Of Rouen

The road up

Upstream of Pont-Aven

Winter Landscape

Working the land
Not seeing the image you're looking for? Contact us! 
These are a few of the many images from our stock collection.